Refresh Dance Crew
2022 / Brand Identity, Photography
A brand identity revamp for Northwestern's largest student-run dance team, aiming to reflect the dynamism of the members and dance style.

As the Design & Branding Chair, I collaborated with the Public Relations Chair to define the visual identity and created all graphics on my own.


Brand Manifesto
---
In this revamp, I sought to evoke core qualities of Refresh: dynamic, gritty, and scrappy but self-assured. Refresh is known for having many members with no formal dance training and often has a dance style with grimy textures, so I wanted to capture that built-from-the-ground-up energy.

To achieve this, I treated typography & the logo with an ink bleed effect and heavily incorporated photography into graphics. Additionally, I sometimes distorted photography with an inverted gradient map and applied grain & a lo-fi printer/scanner texture.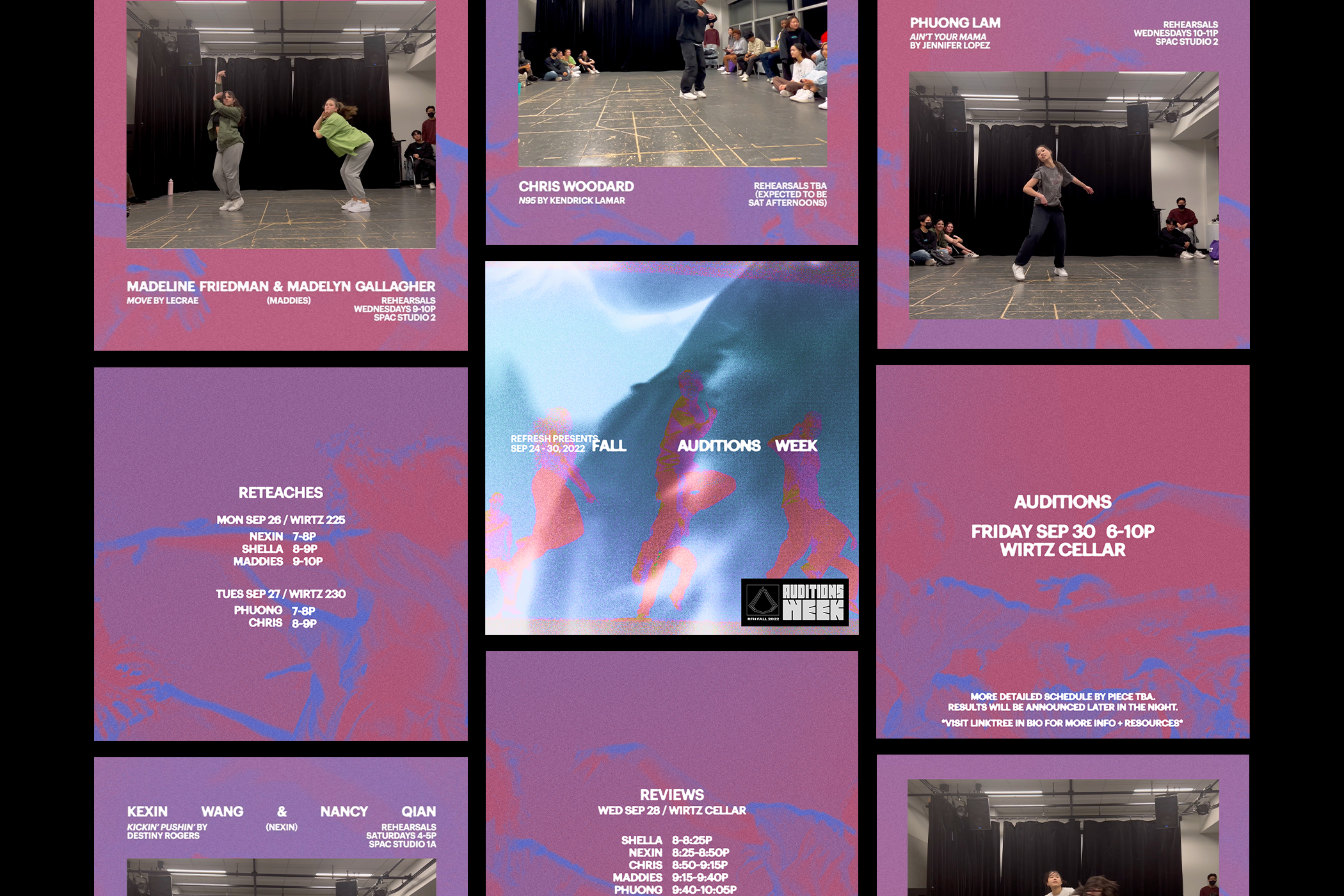 Seamless Motion
---
To reflect Refresh's dynamism, graphics (which are really just one long graphic) are posted as carousels on
Instagram
and are designed so elements seamlessly bleed across slides as you swipe. I wanted to create a dance-like flow in the process of viewing graphics itself.
Photography
---
I also photographed over 50 members for Refresh's annual spring show concepts twice: "REFRESH RELOADED" (grimy and dark) and "REFRESH: THE UNIVERSE" (futuristic, clean). These photoshoots promoted the show concepts, which are typically more aesthetically wide-ranging than the team's usual brand identity.